Recruit case study
Katie Radford
Cruise Youth Staff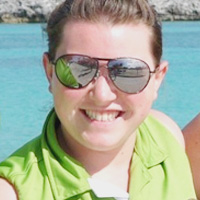 For the past 4 years I have been working for holiday companies through King's Recruit. I have loved every moment, experience and memory! Not only have I had the honour of working on children's activity camps over summer and Easter, I have also had the opportunity to work on 2 cruises.
The first was during the summer months of July onboard The Seabourn Sojourn! What an experience it was, to implement a great programme on board this ship as well as the opportunity to view the amazing places and work with a great bunch of kids! I had the time of my life! We would play tournaments on the Wii, PS3, the golf putting area, lots of arts and crafts and even a treasure hunt under the stars – what an experience!
The second cruise ship was The Queen Elizabeth II, again a beautiful ship and I had the task of keeping the teenagers occupied. I have never had so much fun! On this ship there was an outside facility with a mini tennis court, bowls and croquet! Not only this but at night the shows that were put on were spectacular and seeing the teens enjoy this was not only a great chance to relax and see something amazing but a chance to see them take in some culture!
Both of the cruises were challenging but in a great way! Waking up in a different place every day is exciting and hearing about what the kids have done is always interesting. The task is to make sure they enjoy the cruise as much as you do and with the training that King's Recruit can provide you with, it's simple!
More Kings Recruit case studies