Kings Camps Cricket Coach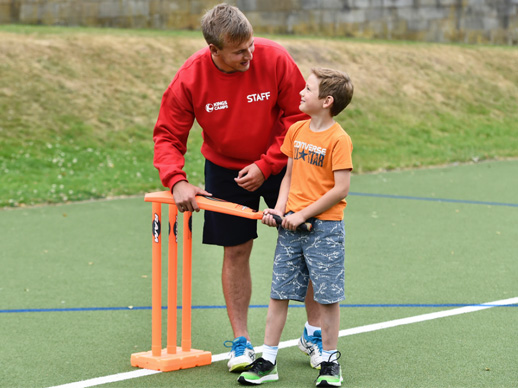 About the role
Reporting to the Camp Manager, the Cricket Coach is responsible for planning and delivering our Cricket Kings programme which takes place each morning of camp. The programme combines a range of cricket skills and fun games for 5 – 10 year olds in an intense week of Kings Camps.
Cricket Coaches are responsible for coaching and looking after a group of up to 20 children, delivering high energy, fun and inclusive sessions to ensure every child is engaged and makes progress, regardless of their ability. Activities can include anything from batting, bowling, wicket keeping and fielding, resulting in an end of week match to demonstrate skills learned. Each session is typically (depending on age) between 30 – 60 minutes long.
Child safety is our number one priority, so coaches need to ensure that the welfare of children is paramount at all times, supervising children during their breaks, participating in sessions, overseeing the safe use of equipment, and promptly recording any incidents.
Popular programme weeks may require Assistant Cricket Coaches, so you'll need to be able to work proactively and collaboratively as a team. You'll need to maintain a professional relationship with children, parents and carers, communication positively and providing feedback on a child's progress throughout camp.
Child numbers and the needs of our members vary, but we're looking for coaches to be fully available for Cricket Kings Programme weeks (between 8.15am and 12.45pm, Monday to Friday). For those who want to commit to coaching for full days, we also have opportunities available for Bank Sports Coaches, giving you the opportunity to join the Multi Active Programme in the afternoons of camp.
Our Red Tops are not expected to stand on the side line, but to actively participate in delivery, showcasing skills, demonstrating good practice and most importantly… have fun!
Why work for Kings Camps?
Earn money and gain valuable experience doing something you love
Work with like-minded people and create friends for life
Have fun contributing to our missions to get children active
Locations
England, Scotland and Wales (don't worry, we'll liaise with you to find you your closest venue)
Dates
Easter, Summer and Half Term School Holidays
What makes a great Cricket Coach
A passion for working with children and/or young people
At least 6 months' consecutive experience working with 5 – 17 year olds
Appropriate experience delivering cricket programmes or coaching cricket
A willingness to liaise with parents, delivering high quality customer service
A real team player who's happy to rotate duties and form positive relationships
At times things change, so you'll need to be flexible, with a willingness to adapt
Leadership skills with a vibrant and confident personality
Possess and able to document (a minimum) Level 1 Cricket qualification (ideally Level 2) through ECB, CPD or UKCC
About Kings Camps
Kings Camps are a market leading not-for-profit organisation offering sports and activity day camps at over 50 locations in the UK, during the school holidays, getting children and young people active, having fun and learning together.
Our coaches (we call them Red Tops) deliver high quality sports camp with an energy, passion and commitment to child development that we call the Kings Factor.
Founded in 1991, we were inspired by US-style summer camps. We decided the youngsters in the UK would love to experience school holiday camps too and establish a model which meant we could reach even more children through not-for-profit work in the UK and overseas. To find out more about Kings Camps, click here.